Villari's Martial Arts Center
Serving the Aquidneck Island/Newport County in the towns of Middletown, Newport and Portsmouth Rhode Island since 1985.
823 W. Main Rd.
Middletown, Rhode Island
02842  United States
Sensei Thomas Schmid (Chief Instructor)
Phone : (401) 847-0184
Email : joe.villarismiddletown@gmail.com
Directions:
When traveling on 823 West Main Road in Middletown RI,
we are in the plaza with Dunk N Donuts and Monroe Muffler,
in the same building as H & R Block, Big Dawg's, Electric Light, and the Sunrise Vietnamese Restaurant, go through the BACK ENTRANCE of the building to find us.
Look for our yellow street sign in front of the plaza at 823 West Main Rd.
For More Information and To Schedule Your First Appointment Contact Us By Clicking On & Filling Out This Form: CONTACT US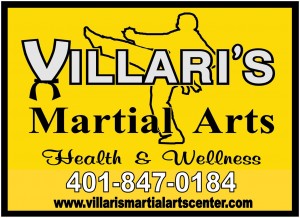 (This is our door and front of building sign)
(This is our street sign)
Pictures of our Facility: