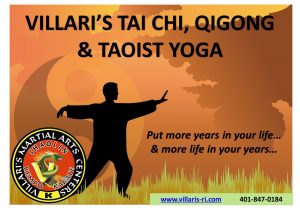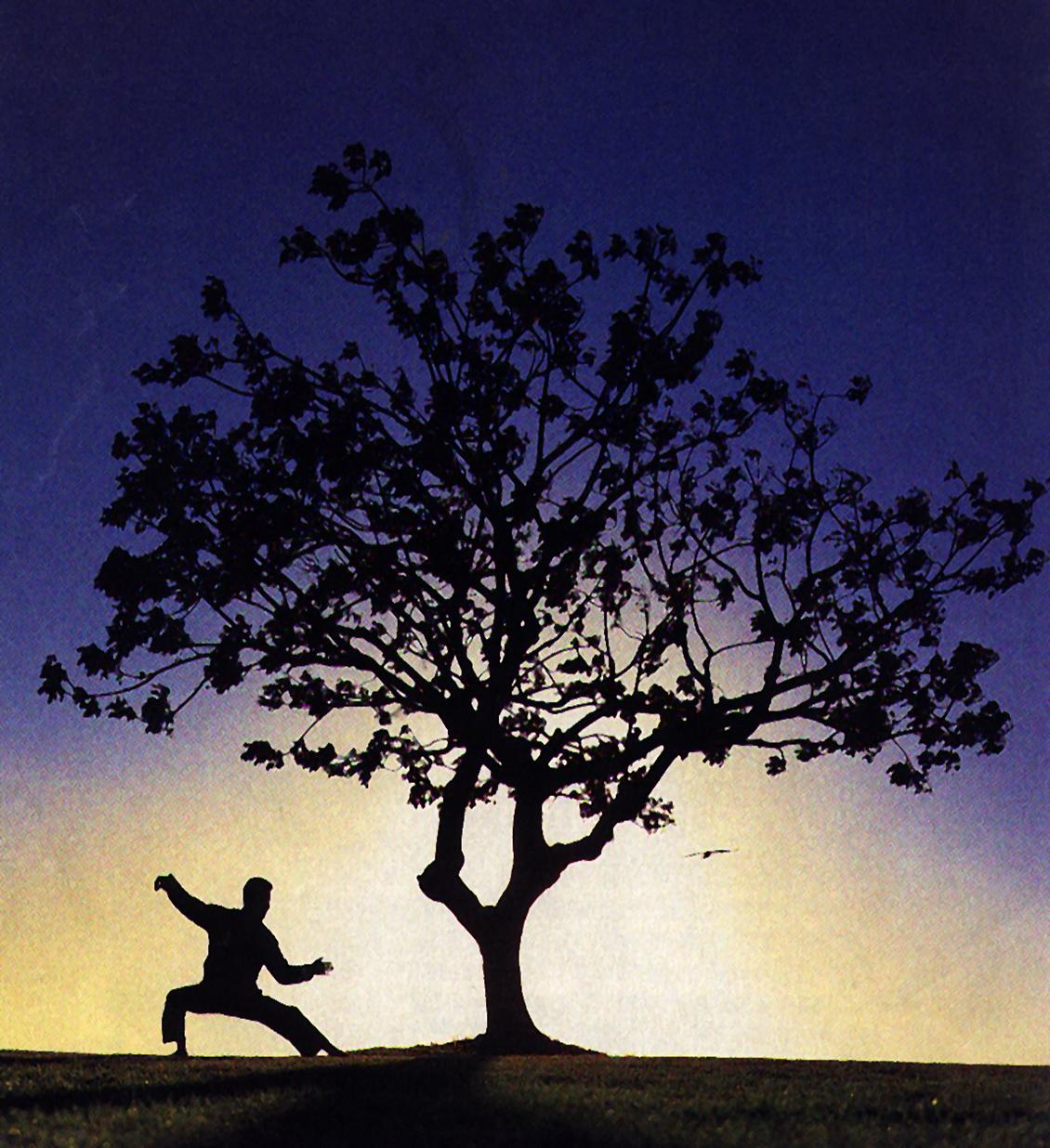 1. What is T'ai Chi?
The practice of the internal martial art of T'ai Chi Chuan is often called moving meditation using slow, fluid movements to balance thoughts, feelings and actions promoting peace of mind, clear thinking and well being.  The word T'ai Chi is often translated as "Grand Ultimate" or "Grand terminus" and is represented by the yin-yang symbol.  The word "Chuan" translates as "fist."  T'ai Chi Chuan can be translated as "Grand Ultimate Fist."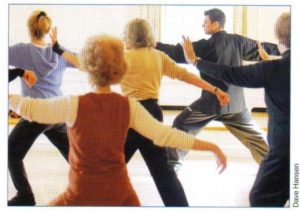 2. Can you tell me more about the T'ai Chi-Qi-Gong program at Villari's Martial Arts?
At Villari's Martial Arts our T'ai Chi and Taoist Yoga (Qi-Gong) program is mindfulness and awareness training from Tibetan teachings and the Shaolin monks of China for the purpose of health cultivation, clear thinking and peace of mind in everyday life.
By learning beneficial body movements in a certain sequence with a relaxed "Open Focus of Awareness" you will balance and harmonize the energy systems of the body/mind. The T'ai Chi-Qi-Gong program at Villari's is a non-religious method of self-improvement.
The principles of the exercises contained within the Tai Chi program was first made public by the "Yellow Emperor" in 2783 B.C. What was true then is still true today, in basic terms of quality and quantity of life issues. By learning to activate the "feeling intelligence" balanced with the "thinking intelligence" we experience life as a flow rather than a struggle. The exercises gently guide us to expanded potential in any area of body, mind or emotion by dissolving (any and all) blocks through relaxation and the practice of mindfulness in everyday life.
Once only available in China to a fortunate few, now  these practical and powerful teachings are available to you and the benefits can be brought into all aspects of your life. Results are assured.
3. What are T'ai Chi-Qigong classes like?
At Villari's Martial Arts we begin our Tai Class by"setting the tone" with a thought and intention drawing from various Wisdom Traditions.  We usually spend the first portion of our T'ai Chi class in various Wu Chi postures followed by various sets of Qi-Gong stretching and breathing exercises to clear, off-load, build and balance the energy systems of body, mind (emotions) and spirit.   We then go into Tai Chi foundation, form practice, application and instruction.  Each week and month we cover different aspects and themes of both Qi-Gong and Tai Chi and always end with answering any questions.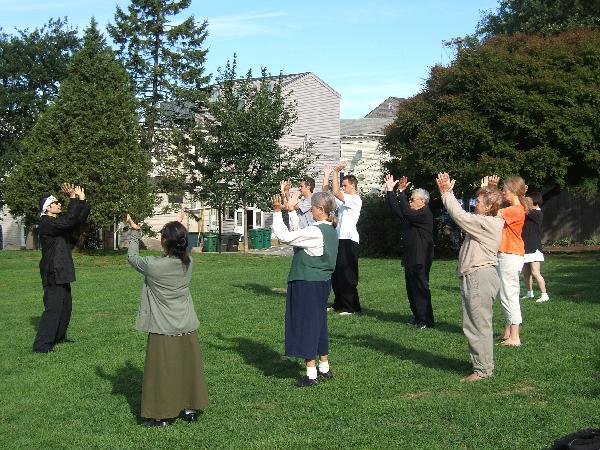 4. Can I view an example of Tai Chi exercise with step by step instruction?
Tai Chi is low impact and everything is done slowly and smoothly making it easy to follow along. Each person works at their own level of skill and tailors the movements and postures to suit their individual capacity.  Many people find that Tai Chi is challenging and rewarding in many ways. It does take time and practice to  learn the various sequences and movements of the Tai Chi Form. Follow this link to see an example of step by step Tai Chi instruction.
 "Tai Chi Exercise with Visual Step by Step Instruction"
https://youtu.be/SBuA_3F5tu8
5. What are some of the benefits of doing T'ai Chi?
You can learn how to relax anytime, anywhere with the Tai Chi "flow experience." There are many benefits to practicing T'ai Chi.
The benefits can be felt immediately and are long-lasting with regular practice.
Many new students in a short period of time are told by friends and family of noticeable changes for the better.
A Professional Recomendation for T'ai Chi:
"T'ai Chi is the up and coming favorite amongst fitness-conscious men and women around the world. Its practice spread from China to all of Asia, including Japan, Indonesia and is now appearing in the U.S.A.  Millions have benefited from the well choreographed body movements. Every move, every turn, every graceful step has been designed to improve respiration, heart functions, circulation, and psychological and spiritual wellness. Highly recommended at any age."
-Adelbert DeVajay, M.D.  (Director of Medical Research in Mind and Body Wellness)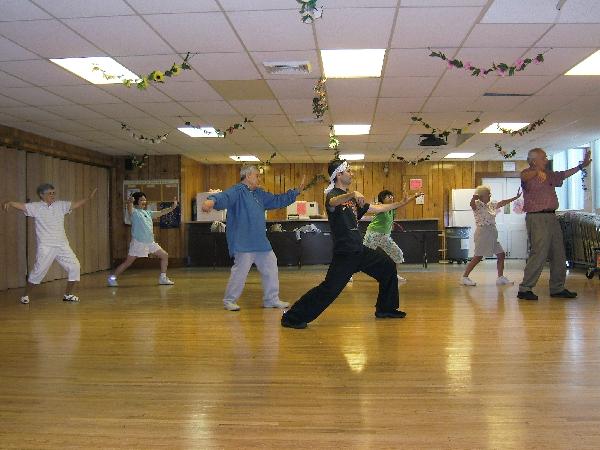 T'ai Chi Research Results:
1992…A study by Putai Jin of LaTrobe University in Australia indicated that T'ai Chi improved heart rate and blood pressure as much as brisk walking.
1996…A study by Dr. Steven Wolf found that elderly people in a T'ai Chi training course reduced their risk of falling by 47.5% compared to those who took a training course in balance.
1996…A study by Dr. Leslie Wolfson of the University of Connecticut: T'ai Chi was compared to balance training, strength training, and combined balance and strength training in people with an average age of eighty. Those who learned T'ai Chi gained significantly more balance and strength than the other groups.
There are many other similar studies showing the many health benefits of Tai Chi.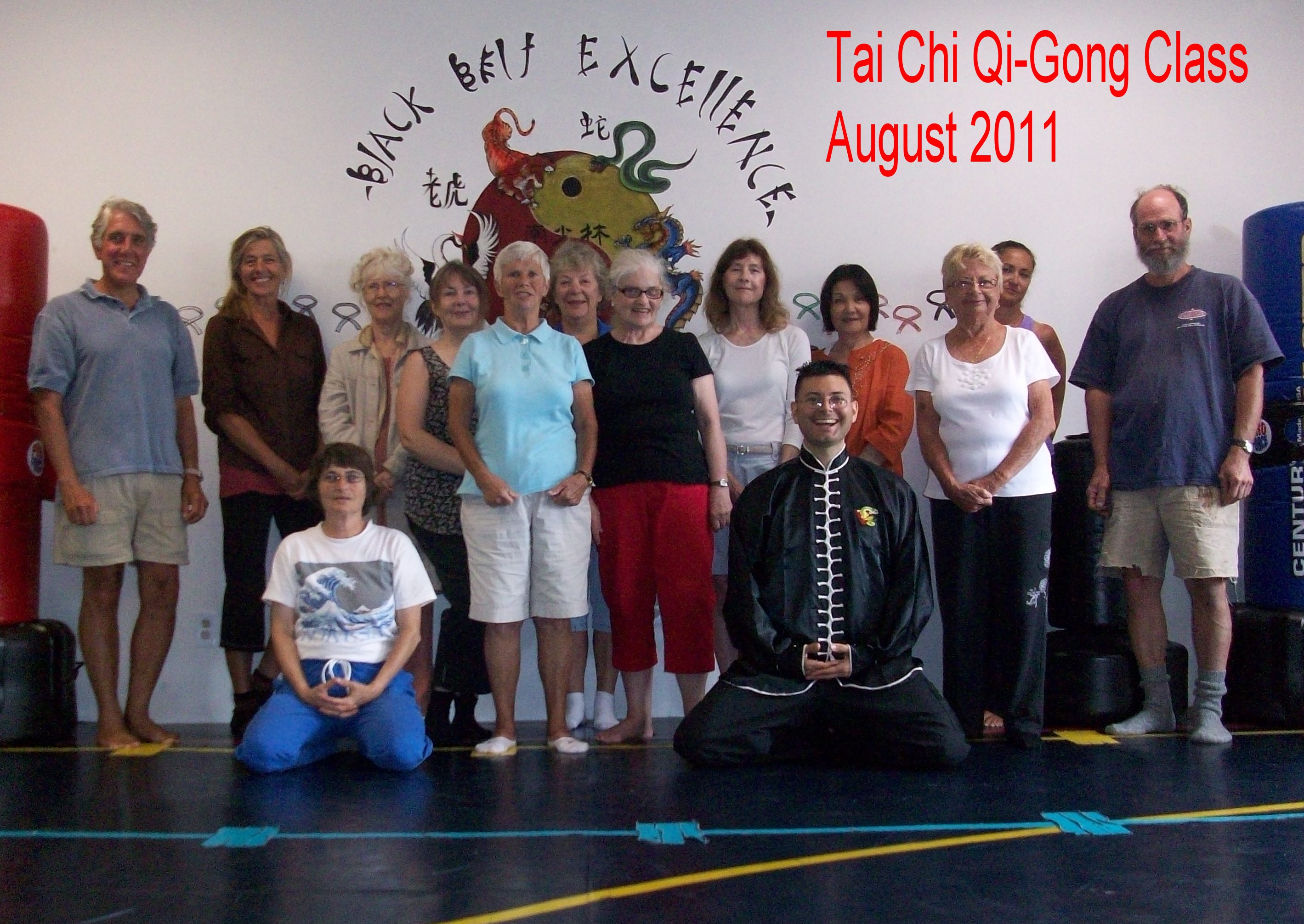 6. How will I know that it's time for me to discover the benefits of T'ai Chi?
Here is a list of things you may be experiencing in your life.
1. Falling and injuring myself is a real concern for me. I would like to improve my balance.
2. I often feel like I am in a hurry or running out of time ("hurry-worry sickness").
3. I find it difficult to find time to exercise in a way that I know is right for me.
I would like to experience regular, enjoyable exercise in my life.
4. I feel out of shape and/or that I could be in better shape. My weight is an issue and a health concern.
5. I'd like to experience a greater sense of peace of mind, well-being and less "stress."
6. I'd like to improve my ability to concentrate and focus.
7. I would like to feel better prepared and more confident in my ability to successfully deal with stress and conflict; to turn a negative into a positive.
8. I have difficulty or trouble sleeping and feeling well rested.
9. I would like to boost my body's healing response and immune system.
10. I often feel lethargic, tired and have less energy than I would like to.
If 4-6 of these "ring true" for you, then we highly recommend you find some sort of regular, enjoyable, centering, and balancing experience that feels right for you. T'ai Chi is a great choice. For some people, Yoga may be good, or Dance, or Aerobics, etc.
At Villari's Martial Arts we are happy to help you discover what is right for you, whether it is here with us or anywhere else.
7. What do I wear to a T'ai Chi class?
We recommend that you wear loose fitting clothes that allow you to move comfortably.  Many students also choose to wear a T'ai Chi uniform with Tai Chi shoes or regular socks. Some students also prefer to do class bare foot.
Click this link to Learn CLOUD HANDS with Tai Chi instructor Jesse Harding
https://youtu.be/SBuA_3F5tu8
8. When and where do classes meet?
 Our T'ai Chi classes currently meet:
 At  Villari's Martial Arts Center :
Wednesday evenings with Michael Corvese from 6:00pm to 7:00pm

Saturday Mornings with Michael Corvese 8:00-9:00am

Monday Mornings (ZOOM ONLY) with Jesse Harding Tai Chi-Qigong 8:30-9:30am                                        (Zoom Meeting ID: 878 5473 4626)
Kenji Omori, Villari Tai Chi Instructor, teaches Tai Chi At The Edward King Senior Center

in Newport, RI.
Contact the Edward King Senior Center for more information and to register for classes at 401-846-7426.
T'ai Chi Chuan is a martial art that is often practiced slowly in a relaxed and meditative way. There are many practical self-defense
applications hidden within the gently, soft, smooth, relaxed and flowing movements.
Click on this link to see Jesse Harding on LiveStrong.com: Combative Applications of T'ai Chi:
 
To set up a free Tai Chi- Qigong lesson Contact Us Today
 
LIVESTRONG.COM VIDEO SERIES:
Watch Instructional Videos of Jesse Harding  covering various topics of T'ai Chi and Qi-Gong (filmed in December 2013) by clicking each link, these videos were originally shot for LiveStrong.com and have been presented on the LiveStrong.com website.
1. "How to use Tai Chi for Combat"
2. "Proper Breathing in Tai Chi"
3. "Qi-Gong Movements for Beginners"
4. "How do I Learn the Tai Chi Step Walk"
5. "Tai Chi Exercises in a Chair" 
6. "Instructions for the Tai Chi Prayer Wheel"
7. "Tai Chi Exercise with Visual Step by Step Instruction"