1.   What Martial Arts will I learn at Villari's? 
The Core Art we study is a system of "mixed martial arts," Shaolin Kempo Karate combines the Four Ways of Fighting (Hitting, Kicking, Felling, & Grappling) into one. It incorporates the Five Animals of Shaolin Kung-Fu: the Dragon, Tiger, Leopard, Crane and Snake, as well as Jiu-Jitsu/Chin'na (joint locking & ceasing). Students learn practical self defense techniques and principles for a wide variety of situations.
Curriculum Topics include-
1) Basics- Health Cultivation (flexibility, cardio, endurance, strength, meditation, etc.), Strikes, Kicks, Blocks & Parries, Stances, Footwork,  Joint-Lock/Breaks, clearly defined Attacking Tactics and Counter Attack Tactics.
2) Forms- "Kata" training including practical self-defense applications (bunkai) for every move taught.
3) Self-defense "Combinations"–  Quick and effective techniques that blend the "4 ways of fighting" (Striking, Kicking, Felling & Grappling).
4) Improvised Attack Responses- Defense against grabs, chokes, joint locks, holds versus single and multiple opponents.  Empty Hand Defense against weapon threats and attack versus knife, gun, and stick.
5) Sparring– Kumite "Kickboxing," Push-Hands, Grappling, and other forms of sparring.
6) Practical Self-Defense- Scenario Training-  Applying your skills quickly and effectively, in a morally and legally sound way, guided by clear rules of engagement for a wide range of practical street defense situations.
Villari's of Middletown also incorporates key areas of "Analytic Combat" and AMOK! Combatives into its core curriculum.
Adults gain many benefits from practicing this art: confidence, self-control and discipline of the mind and body.
2.  What are the main features of the Villari's Martial Arts program for adults?
Adults of all ages can benefit and participate. Each student can adapt the art to suit them.
Mind & Body Training including Meditation, Breathing Exercises, Stretching & Body Conditioning
Practical self-defense training for the 21st century!
Open classes—Students work on the material for their level and with others at a similar level of skill:            -Beginner   -Intermediate   -Advanced
Flexible tuition programs sure to fit your needs. Including Family member discounts.
Private lessons available—Personal training to provide you with that special one-on-one instruction.
3.  What is the history of Villari's Martial Arts ?
Villari's Martial Arts has a long history of success. Grandmaster Fred Villari, the founder of the core system, opened his first dojo in 1968.  He has taught and shared the art of Shaolin Kempo Karate to hundreds of thousands over the years. There have been over 300 Villari Studios opened over the past five decades, through the United States, Canada and overseas. Villari's of Middletown, RI has been going strong and serving the Aquidneck Island for 35 years (Est. 1985)! We have offered Tai Chi programs at our school and at the Porstmouth and Newport Edward King senior centers since the early 1990s. We have presented programs and demonstrations at the Navy base,  local churches, community centers and businesses.  We have offered youth enrichment programs at local elementary, middle and high schools. We have also presented programs at CCRI and Salve Regina University and much more.
4.  What are some of the benefits of martial arts training? 
Practical Self-Defense Skills, Awareness and Preparedness!
Increase Energy, Vitality, Health and Well-Being!
Increase Flexibility & Strength!
Lose Weight!
Tighten and Tone Muscles!
Greater Confidence that comes from Competence!
Make New Friends!
Inner Peace, Reduce Stress and Feel Great!
Develop the Self-Discipline to achieve any goal!
Develop the attitude to persevere, even when things get challenging!
Have FUN!!!  And Much More!!!
5. When do classes meet and how long is each class? 
Adult classes are one hour. On some days we offer an additional bonus 30 minute class for "open format" where students can ask questions and work on things they would choose.
Afternoon, Evening and Weekend class times are available.
See our Class Schedule Page for more details.
6. Do you have to be physically fit to start?
No. Each person practices at their own pace and at their own level of fitness.  At Villari's Martial Arts members are encouraged to focus on improving their own abilities and not to compare themselves to others in the class.  If you have any health issues or physical challenges always consult with your health care professional before starting any physical exercise program.
7.  Are there many injuries with the training?
No. At Villari's great care is given to make each class as safe as possible and to train in a way that promotes good health.  "Safety First" is one of our regular sayings in class. Many martial art masters have said the purpose of training is to develop good health so that one may enjoy "more years in their life and more life in their years."  Students are given specific instructions, guidelines and coached to apply appropriate self-control to prevent injuries from occurring. All self-defense techniques and exercises are applied based on the student's level of experience. We also use safety equipment when appropriate to reduce the risk of injury. By following the directions of the instructors you will find there is less chance of injury than in most popular sports.
8.  Do we learn to use weapons ?
The primary focus of the core system is Empty Hands defense against a wide spectrum of conflict profiles, using Hitting, Kicking, Felling (Take Downs, Throws, etc) and Grappling.
At Intermediate level, students have the option to learn the use of Traditional Martial Arts Weapons. Weapons taught at Villari's include: Bo (Staff), Katana, Tai Chi Sword, Chinese Broad Sword, Tonfa, Nun-Chucks, Sai, Kama, Fans, Double Daggers, Butterfly Swords and many more. Each year various Weapon Clinics are offered at our school.
Student interested in learning the use of both empty hands and weapons for personal defense are encouraged to also train in AMOK! Combatives.  "I am the weapon, everything is an accessory. One mind, any weapon."
9.How long does it take to become a Black Belt?
At Villari's Martial Arts if you have good attendance, attitude and practice regularly, it generally takes between four to six years for most to reach first degree Black Belt.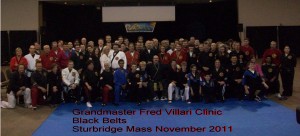 10. What's the best way to get started ?  
We offer a 2-Week Introductory Program where you can try unlimited classes for 2-weeks to take our classes for a test drive. Contact us today to begin.
Through our experience, we have found that the biggest obstacle in getting involved in the martial arts is actually taking the first step.  Individuals who are interested often feel a sense of intimidation about the martial arts.  Television and movies sometimes portray the martial arts as an activity for people who like to fight and/or be violent.
In fact, martial arts training teaches non-violence as well as personal development and growth.  Being a Martial Artist is clearly a way of life.
"The Journey of a Thousand Miles begins with a single step." -Lao Tzu
LIVESTRONG.COM VIDEO SERIES:
Watch Instructional Videos of Jesse Harding covering various topics of Martial Arts Training (filmed in December 2013) by clicking each link to the LiveStrong.com website.
1. "How to Study Martial Arts at Home"    http://www.livestrong.com/video/1009335-study-martial-arts-home/
2. "How Long does it take to get a Yellow Belt in Kempo"   http://www.livestrong.com/video/1009334-long-yellow-belt-kempo/
3. "How to use Tai Chi for Combat"   http://www.livestrong.com/video/1009341-use-tai-chi-combat/
4. "How to Use a Walking Stick for Self-Defense"    http://www.livestrong.com/video/1009333-use-walking-stick-selfdefense/
5. "Proper Breathing in Tai Chi"    http://www.livestrong.com/video/1009340-proper-breathing-tai-chi/
———————————————————————————————————————————————————————————–
"Perceive the way of nature, and no force of man can harm you.
Do not meet a wave head on. Avoid it.
You do not have to stop force. It is easier to redirect it.
Learn more ways to preserve, than to destroy.
Avoid, rather than check. Check, rather than hurt.
Hurt, rather than maim.
Maim, rather than kill.
For all life is precious.
Nor can any be replaced."
-Master Kahn (from the TV show Kungfu)
—————————————————————————————————————–
Untrained warriors are soon killed on the battlefield; so also persons untrained
in the art of preserving their inner peace are quickly riddled by the bullets of worry
and restlessness in active life.
 – Paramahansa Yogananda
——————————————————————————————————————–
"For the uncontrolled there is no wisdom, nor for the uncontrolled is there
                          the power of concentration; and for him without concentration there is no peace.
And for the unpeaceful, how can there be happiness?"
—BHAGAVAD GITA
————————————————————————————————————————
Tao of "No Mind" & "Spontaneous Right Action"
"The mind must always be in the state of 'flowing,' for when it stops anywhere that means the flow is interrupted
and it is this interruption that is injurious to the well-being of the mind. In the case of the swordsman, it means death.
When the swordsman stands against his opponent, he is not to think of the opponent, nor of himself, nor of his
  enemy's sword movements. He just stands there with his sword which, forgetful of all technique, is ready only to
follow the dictates of the subconscious. The man has effaced himself as the wielder of the sword.
When he strikes, it is not the man but the sword in the hand of the man's subconscious that strikes."
-Takuan Sōhō, Legendary Zen master
————————————————————————————————————–
"When the geese fly over the water,  they are reflected in the water.
But the geese do not intend to cast
their reflection and the water has no mind to retain their image."
 -Zen Poem
————————————————————————————————————–
You must prepare yourself,
for what lies ahead in your chosen role as priest.
The nature of wind and fire and ice.
The frailty of the human condition in hunger, thirst, and fatigue. The predatory instincts of living things.
The greed and the finality buried in the hearts of men.
You must be prepared to survive through all of this.
These graceful movements you now
perform, along with the rigors of all those disciplines,
 which your masters impose upon you, will help you to
 develop the inner strength – that which we call Chi.
And when you come to meet your greatest test.
Your highest challenges.
When you call upon your Chi, it will not desert you.
–Master Kahn,
from the TV Show Kungfu
—————————————————————————————————————
"A teacher can open the door but you must enter by yourself."
-Chinese Proverb