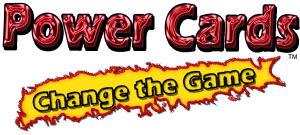 Change the Game with Creative Connections Power Cards!!
Power cards are the one collectible card you can't buy in any store! Students complete the character based missions on the card and have a family member initial the task on the power card checklist.
For children, Martial artists can be like walking, talking superheroes. Power cards link martial arts skills to the cornerstones of character development: practicing self control, respect for others, and self discipline. The kids want the cards, but they have to successfully complete the mission on the back before receiving the next card. Keeping their room clean. Not interrupting when someone is talking. Thanking you for bringing them to class. These are their missions, and the doorway to responsible adulthood. Each time your child completes a task, they bring their checklist to class.  Our instructors will present your child with their new Power Card.
Earning PowerCards
• Complete the character based missions and have a family member initial the task on the Power Card check list
• Each time you complete a task, bring your checklist to class. Your instructors will present you with your PowerCard
• Check out the PowerCard area at www.CreativeConnectionsTTMA.com! Find out how to play the game and then compete with your classmates. Use the online access codes on the backs of the cards to watch video clips of your instructors demonstrating the martial arts skills described on the cards. It's a great way to help you remember your material and practice at home!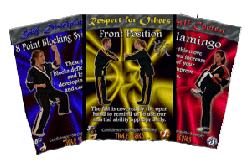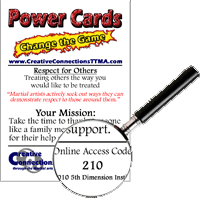 Power Card Series
There are 9 cards in each series. An additional bonus card is given after completing an entire series. The first five series are based on the 5 Shaolin Animals. Students begin with the Tiger Series which focuses on Character Missions to be done at Home.  The Crane Series focuses on Dojo Traditions, the Leopard Series develops good character at School, The Snake Series focused on positive things to do at School and Home and the Dragon Series develops leadership qualities. There is also a Black Belt Series of Power Cards as well.  Each series is designed to become progressively more challenging while also reinforcing the higher level of martial arts material. More information about each series is detailed below.
This first series introduces students to the Power Card program. Cards are earned by completing character based missions. Each task relates back to one of the three rules we live by as martial artists. When you complete the task and the appropriate supporting adult has signed off on it, you bring their checklist in to receive their next card. Once you complete all nine tasks of a series you receive the Bonus Card.

While the Tiger Series focuses on missions to be competed at home, the Crane Series helps reinforce the traditions of the Dojo.
Leopard Series
You must be at least a Purple Belt and have completed the Tiger & Crane Series to be eligible for this series. Now that you have demonstrated your commitment to character at home and during martial arts classes, the next mission is to bring that strong character to school.
Snake Series
You must be at least a Green Belt and have completed the Leopard Series to be eligible for this series.By this point, you've mastered the basics of demonstrating strong character. Now take it up a level with more challenging missions for both home and school. Pay attention to how others respond positively to your continued commitment to character.

You must be at least a Brown Belt and have completed the Snake Series to be eligible for this series. Your commitment to character has given you the tools necessary to positively impact your life and the lives of those around you. The Dragon series mission is to make a difference and stand out from the crowd. Martial artists cultivate their internal strength, strive to make positive choices, and demonstrate a willingness to support and care for others.
Black Belt Series
You must be at least a Black Belt and have completed the Dragon Series to be eligible for this series.Black Belt is time to commit to excellence. The mission is to do more than what is expected. Martial artists choose to live extraordinary lives, and they demonstrate it through their actions.
Special note to family members: Power cards are designed to reinforce the importance of
strong character at home and at school. As always, we are committed first and foremost to the
personal growth and development of our students.  
There will be no cost to participate in this program. ENJOY!