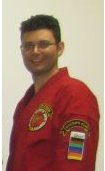 Jesse Harding
Chief Instructor/Director of Villari's Martial Arts (since 2003)
6th Degree Black Belt. Master Instructor.
Advanced Certified T'ai Chi & Qi Gong Instructor.
Certified Medical Qigong Practitioner & Certified Medical Qigong Therapist
Instructor of Amok! Combatives
Instructor of "Extreme Combatives"
BA Degrees in Philosophy, Psychology & Religious Studies.
MA Holistic Counseling.
C.A.G.S.Expressive Art Therapy.
Adjunct Professor at Salve Regina University
Certified Life-Skills Coach
"Managing Criminal Assaults" Presenter and Instructor
Did Martial Arts Training in South East Asia (Philippines (2001, 2008) & Thailand (2003, 2005)  with various Grandmasters…including Tuhon Leo Gaje jr. (2001), Tom Sotis (2003, 2005),  Tuhon Nene Tortal & Guru Edward Lebe (2008)
Over 30yrs in martial arts.
Jesse believes that the martial arts are a FUN and comprehensive vehicle for people of all ages and physical abilities, serving self-actualization, over all well-being, integrating mind, body and spirit into one.
Jesse Harding is also available for ON-LINE COACHING & TRAINING through SKYPE by request.
JHarding@VillarisMartialArtsCenter.com
TEACHING AT SALVE REGINA UNIVERSITY
Jesse has been presenting courses for Salve Regina University's "Circle of Scholars" program since 2015. Courses have included "LIVING THE TAO,"  "PHILOSOPHY OF IMAGINATION- DREAM SYMBOLISM & WORK," and "INTRODUCTION TO CHINESE MEDICAL QI-GONG."
Jesse has served as adjunct professor for undergraduate courses at Salve Regina University (since 2015).
"ENGAGING THE TAOIST EXPERIENCE"  spring 2016 & 2017.
"THE ART AND SCIENCE OF MEDITATION" spring 2015 & fall 2017 .
TEACHING AT NEWPORT CIRCLE OF SCHOLARS

Jesse presents courses on Taoism, Philosophy and other topics for the Newport Circle of Scholars (since 2016).
LIVESTRONG.COM VIDEO SERIES:
You can watch Jesse Harding in a 10-video series for LIVESTRONG.com covering various topics related to Martial Arts Training, T'ai Chi and  Qi-Gong (filmed in December 2013) by clicking this link to the LiveStrong.com website.
1. "How to Study Martial Arts at Home"  http://www.livestrong.com/video/1009335-study-martial-arts-home/
2. "How to use Tai Chi for Combat"  http://www.livestrong.com/video/1009341-use-tai-chi-combat/
3. "Proper Breathing in Tai Chi"  http://www.livestrong.com/video/1009340-proper-breathing-tai-chi/
4. "Qi-Gong Movements for Beginners"  http://www.livestrong.com/video/1009338-qi-gong-movements-beginners/
5. "How Long does it take to get a Yellow Belt in Kempo"  http://www.livestrong.com/video/1009334-long-yellow-belt-kempo/
6. "How to Use a Walking Stick for Self-Defense" http://www.livestrong.com/video/1009333-use-walking-stick-selfdefense/
7. "How do I Learn the Tai Chi Step Walk"  http://www.livestrong.com/video/1009342-learn-tai-chi-step-walk/
8. "Tai Chi Exercises in a Chair"   http://www.livestrong.com/video/1009336-tai-chi-exercises-chair/
9.  "Instructions for the Tai Chi Prayer Wheel"    http://www.livestrong.com/video/1009337-instructions-tai-chi-prayer-wheel/
10. "Tai Chi Exercise with Visual Step by Step Instruction"
http://www.livestrong.com/video/1009339-tai-chi-exercises-visual-stepbystep-instruction/
INTERVIEWS WITH JESSE HARDING:
You can watch some interviews with Jesse Harding on YouTube when he was on a television program called "Awake in the Dream" in September of 2012:
Episode #1: "My Journey"   http://www.youtube.com/watch?v=1sKvc0qCwHc
Episode #2: "Martial Arts & Healing"  http://www.youtube.com/watch?v=hpt7lhpiMNA
YOUNGEVITY:
Jesse is also a member of the YOUNGEVITY company which offers a wide range of outstanding health related and nutritional products.
To Learn more about YOUNGEVITY and order products visit the website:   http://youngjesse.my90forlife.com/
AMOK! COMBATIVES VIDEOS WITH TOM SOTIS AND JESSE HARDING: