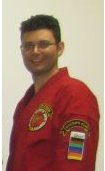 Jesse Harding
Chief Instructor/Director of Villari's Martial Arts (since 2003)
7th Degree Black Belt. Master Instructor.
Advanced Certified T'ai Chi & Qi Gong Instructor.
Certified Medical Qigong Practitioner (Nov. 2015)
Certified Medical Qigong Therapist (Dec. 2018)
Certified Medical Qigong Master. M.M.Q. (Aug. 2021)
Instructor of AMOK! Combatives (training regularly since 1999)
Instructor of "Extreme Combatives"
BA Degrees in Philosophy, Psychology & Religious Studies.
MA Holistic Counseling.
C.A.G.S.Expressive Art Therapy.
Adjunct Professor at Salve Regina University
Adjunct Professor at AGM University- Online
Certified Life-Skills Coach
"Managing Criminal Assaults" Presenter and Instructor
Did Martial Arts Training in South East Asia (Philippines (2001, 2008) & Thailand (2003, 2005)  with various Grandmasters…including Tuhon Leo Gaje jr. (2001), Tom Sotis (2003, 2005),  Tuhon Nene Tortal & Guru Edward Lebe (2008)
Jesse began martial arts training in 1984.
Jesse believes that the martial arts are a FUN and comprehensive vehicle for people of all ages and physical abilities, serving self-actualization, over all well-being, integrating mind, body and spirit into one.
Jesse Harding is also available for private sessions (in Martial Arts, Meditation, Tai Chi, Qigong, etc.) ON-LINE  through ZOOM by request.
JHarding@VillarisMartialArtsCenter.com
TEACHING AT SALVE REGINA UNIVERSITY
Jesse has been presenting courses for Salve Regina University's "Circle of Scholars" program since 2015. Courses have included "LIVING THE TAO,"  "PHILOSOPHY OF IMAGINATION- DREAM SYMBOLISM & WORK," and "INTRODUCTION TO CHINESE MEDICAL QI-GONG."
Jesse has served as adjunct professor for undergraduate courses at Salve Regina University (since 2015).
"ENGAGING THE TAOIST EXPERIENCE"  since spring 2016
"THE ART AND SCIENCE OF MEDITATION" since spring 2015
"QUEST FOR THE ULTIMATE: WORLD RELIGIONS" since 2020
TEACHING AT NEWPORT CIRCLE OF SCHOLARS

Jesse has presented courses on Living The Tao, Dream Work & Symbolism, Medical Qi-Gong, and other topics for the Newport Circle of Scholars (since 2016).
TEACHING AT AGM UNIVERSITY

Jesse is teaching an on-line college course on Introduction to Philosophy (2022)
LIVESTRONG.COM VIDEO SERIES:
You can watch Jesse Harding in a 10-video series for LIVESTRONG.com covering various topics related to Martial Arts Training, T'ai Chi and  Qi-Gong (filmed in December 2013) by clicking this link to the LiveStrong.com website.
1. "How to Study Martial Arts at Home"  http://www.livestrong.com/video/1009335-study-martial-arts-home/
2. "How to use Tai Chi for Combat"  http://www.livestrong.com/video/1009341-use-tai-chi-combat/
3. "Proper Breathing in Tai Chi"  http://www.livestrong.com/video/1009340-proper-breathing-tai-chi/
4. "Qi-Gong Movements for Beginners"  http://www.livestrong.com/video/1009338-qi-gong-movements-beginners/
5. "How Long does it take to get a Yellow Belt in Kempo"  http://www.livestrong.com/video/1009334-long-yellow-belt-kempo/
6. "How to Use a Walking Stick for Self-Defense" http://www.livestrong.com/video/1009333-use-walking-stick-selfdefense/
7. "How do I Learn the Tai Chi Step Walk"  http://www.livestrong.com/video/1009342-learn-tai-chi-step-walk/
8. "Tai Chi Exercises in a Chair"   http://www.livestrong.com/video/1009336-tai-chi-exercises-chair/
9.  "Instructions for the Tai Chi Prayer Wheel"    http://www.livestrong.com/video/1009337-instructions-tai-chi-prayer-wheel/
10. "Tai Chi Exercise with Visual Step by Step Instruction"
http://www.livestrong.com/video/1009339-tai-chi-exercises-visual-stepbystep-instruction/
INTERVIEWS WITH JESSE HARDING:
You can watch some interviews with Jesse Harding on YouTube when he was on a television program called "Awake in the Dream" in September of 2012:
Episode #1: "My Journey"   http://www.youtube.com/watch?v=1sKvc0qCwHc
Episode #2: "Martial Arts & Healing"  http://www.youtube.com/watch?v=hpt7lhpiMNA
AMOK! COMBATIVES VIDEOS WITH TOM SOTIS AND JESSE HARDING:
visit- amok.global