"Practice together, prepare together, learn together!" 
We prepare in the dojo,
but life's greatest challenges will happen off the mats.
Periodically at Villari's Martial Arts we offer "Off the Mat" classes which are open to all students, friends and parents to attend.  Why cheer from the sidelines when you can step out on the floor and experience everything you want for your child right at their side? Discuss what you learned. Let your child be a teacher. Learn how to be their coach. The only limits are your imagination. Strengthen familial relationships and give your child an opportunity to show you what they've learned. Fill the valuable role of "Trusted Adult."
"Off the Mat" creates the opportunity for you to further your child's development in the martial arts and in life. Take the skills that they are learning in the dojo and translate them to where they matter most. Home. School. At a friend's house. Out in the world. We focus on different themes and lessons in each "Off the Mat" class.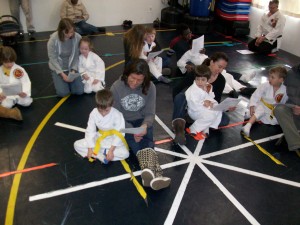 Three Part Class Format:
1. Interactive coaching drills for focus, fitness and fun.
2. Personal safety skills to be practiced with a training partner/trusted adult
3. Role playing exercises for improving life skills and bullying prevention and awareness.
Additional Information:
Participants wear regular clothing
Class consists of interactive role playing & discussion
Family members & friends are encouraged to attend!
Materials include handouts describing the information presented