1.   What age can children start martial arts?
At Villari's Martial Arts children can begin as young as 3 1/2 -4 years old.
We have "Little Dragon" classes specifically designed for TOT children between the ages of 3 1/2 to 6 years old. Our classes are designed to be age-appropriate and are customized to meet the needs of the students.
2.  Can you tell me more about Villari's Martial Arts program for children?
AGE AND SKILL LEVELS
At Villari's Martial Arts we have age-appropriate classes specifically designed for Tot Children (ages 4-6) and classes for Juniors and Teens (ages 7-14). We have beginner, intermediate and advanced classes so that students work with others of similar age, ability and skill level.
CHARACTER DEVELOPMENT
The Villari's Martial Arts Kid's Program is built around the foundation of our "3 Rules of the School":
Respect for Others—Treating others the way I would like to be treated.
Self-Discipline—        Doing the things I know I should do without having to be asked or told.
Self-Control—            Controlling my behavior to fit the situation and being responsible for my actions.
These rules provide the foundation for developing your child's character skills, which leads to success in all other areas of life.  Students are encouraged, rewarded and reminded to follow these 3 Rules at home, in school and at the Dojo.
POSITIVE REINFORCEMENT
Kids are rewarded for desired behavior giving them the necessary incentive to continue in a more positive way.  This also creates a feeling of success allowing the student to press forward toward more rewarding achievements. The martial arts at Villari's is an individual activity.  No one ever "sits on the bench."  Each student is an all-star!
3.  What is Villari's "Colors of Character" program for children?
THE COLORS OF CHARACTER PROGRAM-   SAFER, HEALTHIER, HAPPIER 
Each month we focus on a different character development theme and integrate life-skills training into each class. Some specific "Safer, Healthier, Happier" topics include:  Fitness, Confidence, Conflict Resolution, Personal Power, Personal Safety, Stress Management, Goal Setting, Developing Black Belt Character, Going Beyond the Grades, Practicing Respect and Kindness and more.
There is more to karate than learning to punch and kick.  Villari's Colors of Character Program was created to balance children's physical development with the concepts of Self Discipline, Respect, and Self Control.
The program consists of a series of worksheets that go along with the Monthly Principles that are designed to help parents instill and strengthen their child's understanding and application of the core character traits of "Black Belt Excellence."
At the completion of each worksheet children are awarded a colored stripe to be affixed to their belt.  In addition, students will earn other types of stripes on their belt when they have successfully demonstrated different skills and behavior in the dojo.
Getting started with the Colors of Character program is easy.  Your child's first worksheet will be given to them on their first class. A new worksheet is given to students every two months. Each worksheet must be signed by the parent and submitted by the deadline in order for the child to earn his/her belt stripe.
4.  Can parents take classes with their children?
We offer  "OFF THE MAT" workshops and class formats for family members to do with their children.
"Practice together, prepare together, learn together!" 
We prepare in the dojo, but life's greatest challenges will happen off the mats.
Several times through the year  we offer an "Off the Mat" themed class which is open to all students, friends and parents to attend.  Why cheer from the sidelines when you can step out on the floor and experience everything you want for your child right at their side? Discuss what you learned. Let your child be a teacher. Learn how to be their coach. The only limits are your imagination. Strengthen familial relationships and give your child an opportunity to show you what they've learned. Fill the valuable role of "Trusted Adult." Off the Mat creates the opportunity for you to further your child's development in the martial arts and in life. Take the skills that they are learning in the dojo and translate them to where they matter most. Home. School. At a friend's house. Out in the world. Each month we will focus on a different theme and lesson. This format is sometimes incorporated as part of your child's Belt Test experience as well.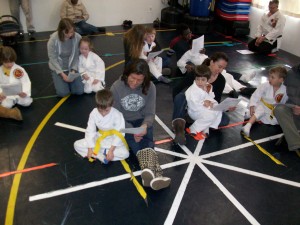 Three Part Class Format:
1. Interactive coaching drills for focus, fitness and fun.
2. Personal safety skills to be practiced with a training partner/trusted adult
3. Role playing exercises for improving life skills and bullying prevention and awareness.
Additional Information:
Participants wear regular clothing
Class consists of interactive role playing & discussion
Family members are encouraged to attend!
Materials include handouts describing the information presented
5.
How long does it take to become a Black Belt?
At Villari's Martial Arts if you have good attendance, attitude and practice regularly, it generally takes between four to six years to reach first degree Black Belt. For students under the age of fourteen we have "Junior Black Belt." At our school, students must be fifteen years of age or older to be eligible to test for adult Black Belt. "A Black Belt is a White Belt that never gave up."
6.  Why is it good for kids to learn martial arts? What are the benefits?
At Villari's Martial Arts we've found that children train because they enjoy the variety of exercise, learning and fun they have from class to class. Villari's Martial Arts training is focused on making kids Safer, Healthier and Happier!   Many children experience better performance in school and behavior at home after doing karate.  Karate kids experience greater confidence, self-esteem and ability to focus.
Kids Martial Arts Benefits Include:
Develop respect for self & others
Improve concentration & focus
Achieve better grades in school
Learn to control their behavior even in tough situations
Develop the attitude to persevere even when things get challenging
Improve coordination, strength and balance
Channel extra energy into positive directions
Develop self-discipline and habits to achieve any goal
7. Do you have to be physically fit to start?
No. Each child practices at their own pace and at their own level of fitness.  At Villari's Martial Arts members are encouraged to focus on improving their own abilities and not to compare themselves to others in the class.  If you or your child have any health issues or physical challenges always consult with your health care professional before starting any physical exercise program.
8.  Are there many injuries with your Martial Arts training?
No. At Villari's great care is given to make each class as safe as possible and to train in a way that promotes good health.  "Safety First" is one of our regular sayings in class. Many martial art masters have said the purpose of training is to develop good health so that one may enjoy "more years in their life and more life in their years."  Students are given specific instructions, guidelines and coached to apply appropriate self-control to prevent injuries from occurring. All self-defense techniques and exercises are applied based on the student's level of experience. We also use safety equipment when appropriate to reduce the risk of injury. By following the directions of the instructors you will find there is less chance of injury than in most popular sports.
9. What is the difference between the Kids and Adult Martial Arts Training at Villari's?  
All of our instructors are certified through Villari's own Instructor Certification Program.  They are extensively trained how to work with different age groups and understand their varying needs at each specific stage in a child's development.
At Villari's, we recognize that teaching an adult and teaching a child is not the same.  Classes are structured appropriately to reflect these differences, allowing each student to get the most out of each lesson and experience the highest quality of training.