Main characteristics of AMOK! Combatives 
The study of both unarmed and armed self-protection from attacks, AMOK! courses are designed for rapid skill development.
Practical Knife Defense and Practical Knife Fighting are the core programs which expand to include using other instruments, weapons, and empty hands.
AMOK! is open to mature teen and adult students of all skill levels.
AMOK! workshops WEDNESDAYS 7:00-8:30pm (Check list of upcoming events to see when workshops are scheduled)
There are also various AMOK! clinics held at Villari's Martial Arts Center throughout the year, some on weekends and other clinics held throughout the New England region. AMOK! seminars and camps are presented worldwide.
Main benefits of AMOK! Combatives
You will enjoy the confidence and peace of mind that comes from being firmly prepared to protect yourself and those you care about.
If the odds are against you, and you are forced to defend yourself or a loved one, knowing how to both defend against a knife attack and how to handle a knife or improvised weapon is your very best chance to successfully do it!
Because authentic knifefighting is quite rare one would expect to pay much more than common martial arts but this isn't true. AC is priced with rates competitive with other martial arts.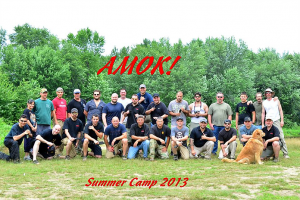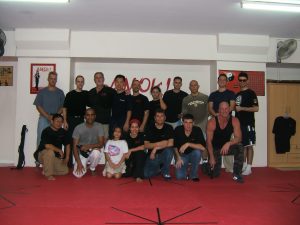 AMOK! training procedures elevate practices to the highest level of reflexive development through highly sophisticated methods of integration.
Knife defense is more complex than empty hands because it includes their elements compounded by so many variables. AMOK! is the highest level of training of combat / self defense – not martial art.
Our mission is educating and training persons of good character to protect themselves and their loved ones with ethical, legal and tactically responsible solutions to violent assaults.
Our methodology aims to develop one's entire sphere of readiness across the entire force continuum; imparting functional skill in the shortest interval with realistic & safe training.
Our technology serves the dual purposes of defending against violent attacks with empty hands or with weapons; and uses only one set of blade-based actions to apply your empty hands, an edged weapon, or any improvised instrument.

Tom Sotis- Founder of AMOK!  
Tom Sotis has taught over 500 seminars in 20 countries, more than any other edged weapons expert in the world, widely regarded as the world's most influential knifer, his proven reputation and method of combat, aptly called AMOK!, has earned him global respect.
In addition to weapons training, Tom is highly sought out by instructors of other methods for his methodologies and coaching insights. Sotis hard-earned his proven reputation within the US and foreign Special Forces communities and regularly trains military operators and government agents in some of the most dangerous countries and war zones in the world.
Mr. Sotis trains all levels of Law Enforcement and has a strong following among Law Enforcement because of Sotis' years of volunteer efforts and responsible ethics regarding edged weapons in society. Outside the US, Russian, South African, and other foreign Law Enforcement agencies currently employ Sotis and his tactics.
Sotis is a charismatic instructor who attracts students, instructors, masters, and grandmasters from hundreds of empty hands and weapons systems to his seminars and camps. Sotis has an extraordinary martial background amassed from his relentless dedication to training and pursuit of combative truth.
About Jesse Harding- AMOK! Instructor
Jesse Harding, licensed AMOK! Instructor, has been training consistently in AMOK! directly with Tom Sotis since 1999.  Jesse has been teaching AMOK! through weekly classes and workshops at Villari's and in other locations since 2001. He has invested hundreds of hours training and teaching AMOK! Jesse has been presented various AMOK! Awards over the years, including "Tribal Leader of the Year." He has traveled through South East Asia to the Philippines (2001, 2008) and Thailand (2003, 2005) on numerous occasions to train in the combative arts. Jesse is available for private lessons and training.
Contact Jesse directly: EMAIL: Jharding@villarismartialartscenter.com
Information, videos and other excellent resources can be found at AMOK.GLOBAL.
AMOK! PHOTO GALLERY